Stadtl Shuffle [štatl šafl]
18.5. – 21.5. 2023
A rather local weekend full of balboa, live music and inspirational classes.
*** Pro češtinu klikni SEM ***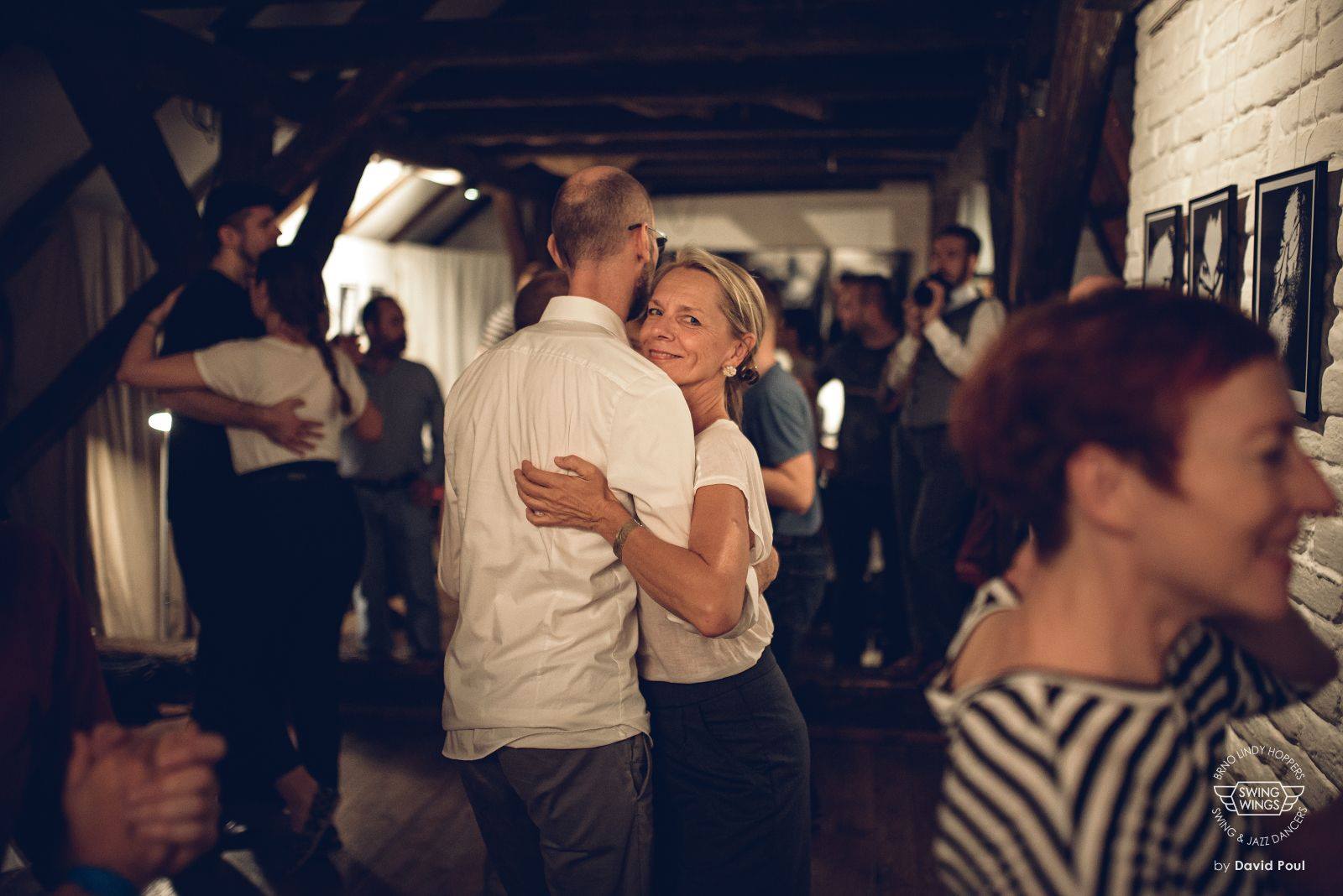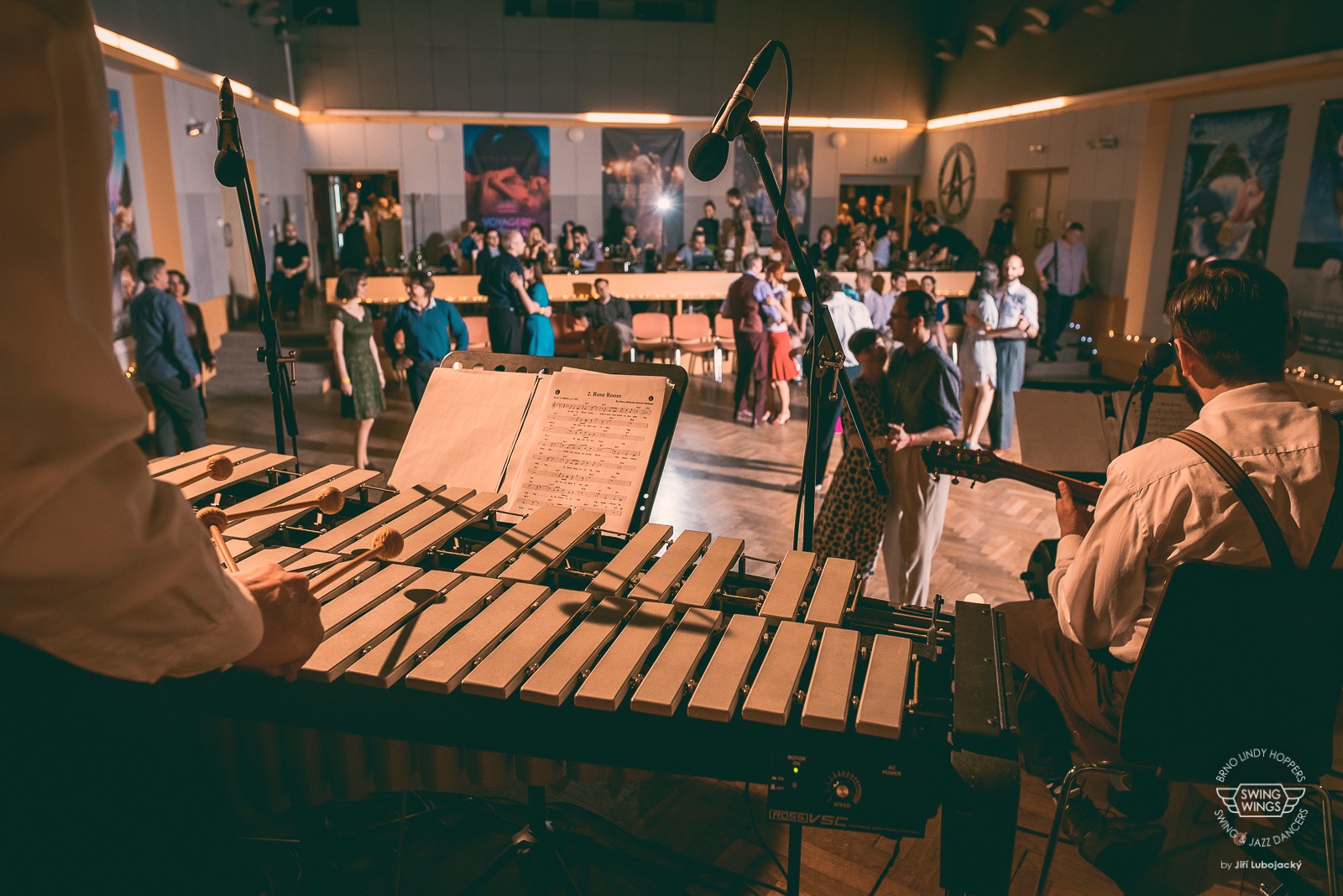 Thursday social
Those who want to extend the weekend of balboa to the maximum are welcome in our favourite balboa venue on Thursday – Místogalerie Skleněná louka, a charming little place right under the roof. The music will be provided by a DJ.
Friday and Saturday
As usual, the bands for the weekend will be tailor made to our taste. We've entrusted the true professionals with the job! Both of the nights will take place in Kinokavárna.
… Friday party with Chief Rhythm and His 5
Each year, a new band emerges on demand of our balboa community here in Brno. This year's Stadtle Shuffle will not be an exception! Under the guidance of the chronic founder of music bands, Janek Čarek, who will come back in the position of the main vocalist for this project, new talents from the Department of Jazz Interpretation will emerge into the limelight
The musicians themselves are looking forward to this fresh mix of new energy with a decade of experience from international festivals!
… Saturday party with Tryin' -To-Be-Good Men
The main star of Saturday night will be Tryin' -To-Be-Good Men.  A band that came to life under the lead of Janek Čarek and Petr Pospíšil for our first edition last year, has gained the love of dancers at several international festivals in the meantime. They find inspiration in the famous cooperation of Benny Goodman and Lionel Hampton – their arranges accompanied with the sound of vibraphone will catch your heart and never let go. Shuffling to the rhythm will be a pleasure with them!  
Sunday farewell
We'll round up Sunday with a selection of vinyls by Peter and Štěpán. Café JAGA, which many of you may know as our regular spot for Sunday socials, will transform into a cozy balboa dance floor. Let's celebrate the end of the dance-full weekend with a glass of ořechovka (a local walnut liquer we grew fond of).
Such inspiration can be often found nearby! We thus decided to invite two couples of experienced teachers from neighbouring Poland, full of inspiration and passion for balboa.
We have the pleasure to welcome in Brno these two couples of teachers this year:
Anna Mojle and Rafał Rendak (Warsaw)
Maria Ślęczka and

Rafał

 Ślęczka (Kracow)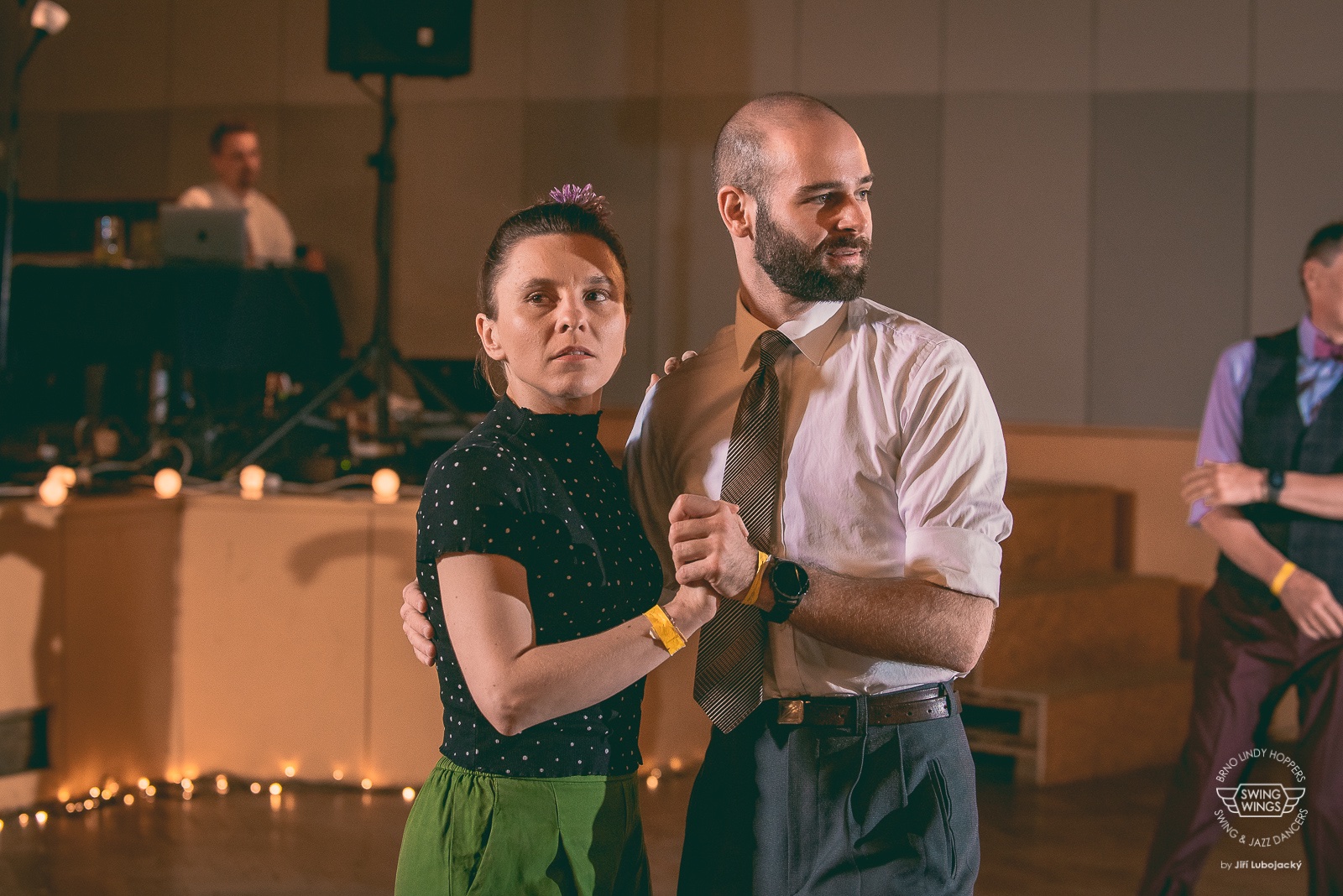 Ania & Rafał like when the dancing is pleasant, cheerful, energetic and when it corresponds to the music. There is always a bit of positive craziness in their dancing. They are both experienced in collegiate shag, balboa, lindy hop and St. Louis shag. Rafał started dancing in 2011, Ania in 2014. They have been teaching together since 2020 and it brings them a lot of fun.  Lately they have been devoted mostly to balboa and collegiate shag. They will be more than happy to share their knowledge and experience with you.
Ania and Rafał excite us for their sincerity, their precision of movement, and the fact that they are able to switch between the styles, but still look "at home" in any of them.
Maria & Rafał discovered lindy hop in 2012 and started teaching it together just a year after. On the way to swing dancing, they made several stops for folk and
contemporary dance, jazz, modern jazz and a few other techniques. Their new love is balboa – a dance in which they focus on communication between partners. They often say that progress is made in the head first, not in the legs. They believe that dance is primarily a source of joy, a form of expression and building relationships with others. They value community and thanks to this approach, they manage to involve more and more people in swing dancing.
We love Maria and Rafał for their sense of musicality, communication in the couple, and their lightness of movement even in the fastest tempos.
The classes will be held as a couple dancing and will be led by two couples of teachers – Anna &

Rafał and

Maria & 

Rafał

.
The participants will be divided into two parallel groups on the spot, both of them may look forward to 6 hours of classes during the two days.
All classes will take place in Studio Kafka, Koliště 43.
Levels of classes:
Balboa Lovers (on the scale from Beginner/Intermediate to Intermediate)
– you have some experience with balboa (at least 6 months of classes) but you feel that you have a long way ahead of you.
Balboa Fanatics (on the scale from Intermediate/Advanced to Advanced)
– you've been dancing balboa for quite a few moons now, you can handle a wide range of tempos and feel comfortable in bal-swing as well as pure-bal.
Both of the levels require participation in auditions on Saturday so that we can divide the participants into two parallel groups based on the comparison with the other dancers present.
The outcome of the audition may not necessarily correspond to the level that you signed up for. It may vary depending on the experience of the other dancers, so that we can ensure the most comfortable experience for everybody.
Still, we would like to encourage you to sign up for the level that feels right on paper. This will help us ensure that there is a balance between leaders and followers in each of the groups.
** For couple classes, we recommend registration with a partner. Those who will register alone will have to wait for a match with a participant of the opposite role. You may use our facebook group
Hledám tanečního partnera/partnerku – SWING WINGS
 or 
facebook event
 to search for a partner.
*** Cancellation policy:  Unfortunately, we're not able to refund your pass. If you're unable to participate, please try offering your spot in the facebook event or local facebook groups. In the case of a change of participant, please let us know at pilot@swingwings.cz. You can check whether the seller actually owns their pass on the same adress.
CHOOSE YOUR BALBOA COMBO!

| Pass variant | The price includes | Price per person |
| --- | --- | --- |
| FULL PASS | 6 hours of classes + entry to 3 parties (Friday, Saturday, Sunday). | 2750 CZK // 125 EUR* |
| PARTY PASS | 3 parties (two with a band, one with vinyl DJs: Friday, Saturday, Sunday). | 1050 CZK // 50 EUR* |
| ČTVRTEČNÍ TANČÍRNA | Our regular social in Skleněná louka with a DJ, open to anybody for a donation on the spot. Not a part of party pass or full pass. | 50 CZK (2 EUR) in cash on the spot |
| PÁTEČNÍ PÁRTY | The first night of the festival itself in Kinokavárna, with a jam session of local musicians and DJs. | 450 CZK // 24 EUR* |
| SOBOTNÍ PÁRTY | The main night of the festival in Kinokavárna with Tryin'-To-Be-Good Men and DJs. | 600 CZK // 30 EUR* |
| NEDĚLNÍ PARTY | Our regular Sunday social in JAGA, this time in faster tempos and with vinyl DJs. It is a part of both full pass and party pass. Open to others for a donation on the spot. | 100 CZK (4 EUR) in cash on the spot |
* Prices in EUR have been calculated with regard to changing exchange rates as well as fees charged by our bank for receiving payments in foreign currencies. It may be more favourable to you to send the amount in CZK using services specialising in transers of different currencies, such as Wise.
IMPORTANT INFORMATION FOR PARTICIPANTS
AUDITIONS
For better comfort and leveled field in the classes, there will be auditions before the first couple class on Saturday.  Auditions are obligatory for all participants of those classes.
DON'T FORGET TO BRING CASH!
During classes in the studio we only accept cash in CZK as a payment for refreshments. Please don't forget to exchange some money.
Our Thursday's venue does not accept cards either. The venues on Friday, Saturday and Sunday accept payment cards with no issues.
A phone number in case you get lost or encounter difficulties during the event:
+420 731 745 909 (Míša)
Please read our Code of Conduct before registering. Thank you for making this event a safe space with us.
Registrace je uzavřena. / Registrations are closed.
Kontakt : pilot@swingwings.cz