JAZZBERRY HOP 2023 REGISTRATION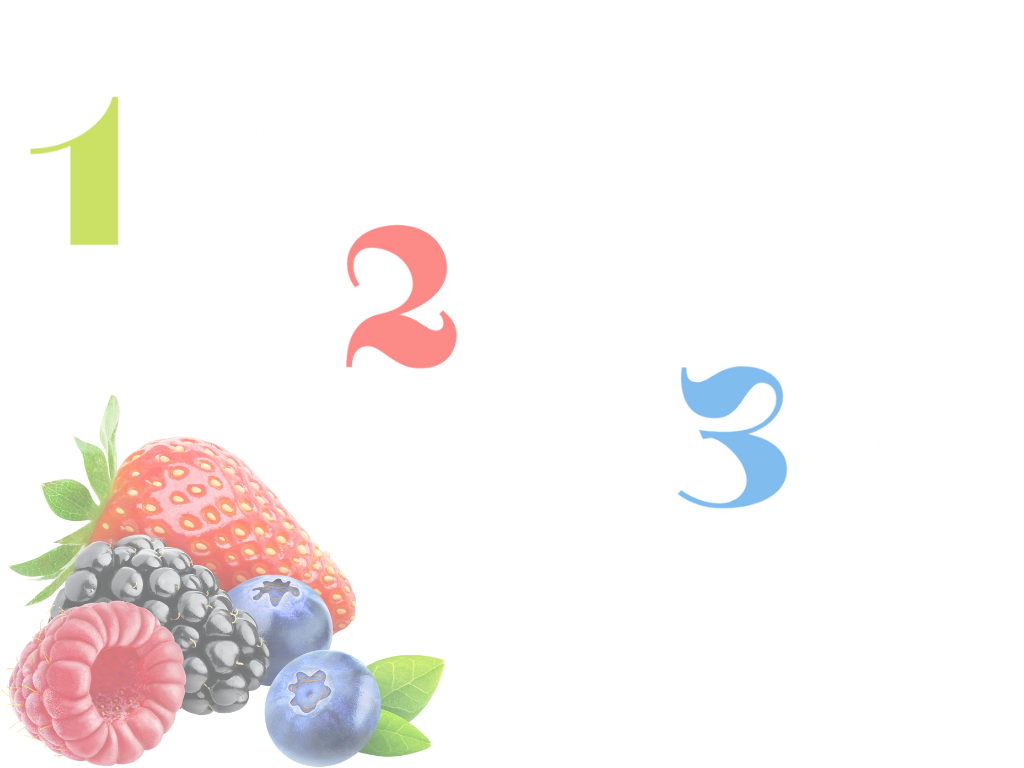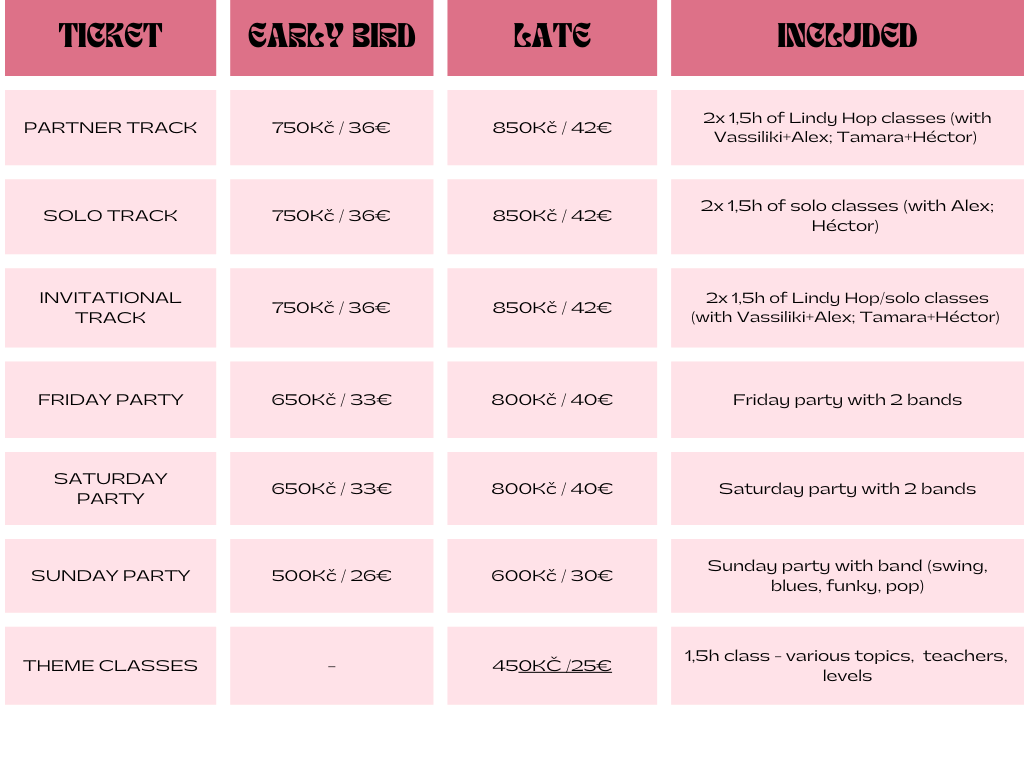 THIS IS JUST A DRAFT, so you can plan your classes better. In case of changes you will be informed and we will give you a chance to swap the theme class or we will give you money back.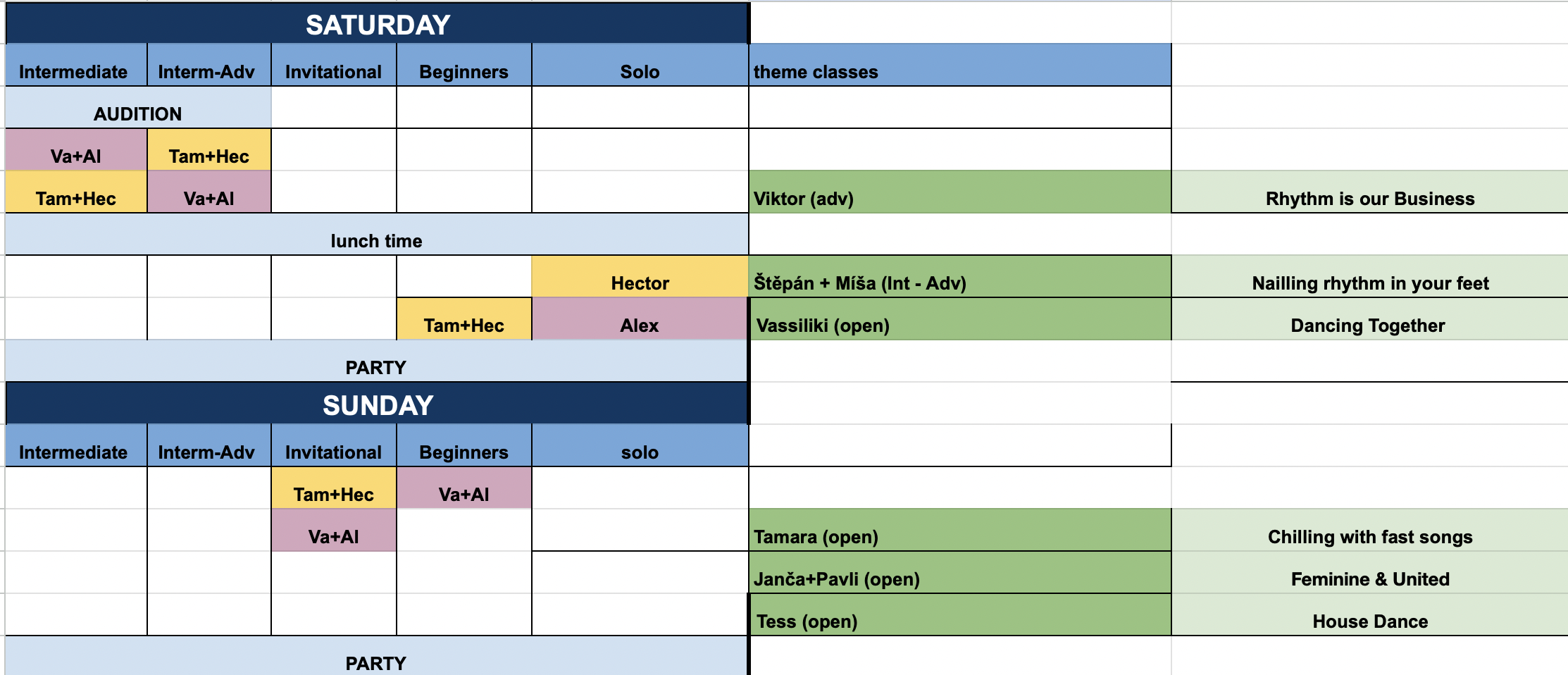 INTERMEDIATE AND INTERMEDIATE/ADVANCED PARTNER TRACK IS SOLD OUT!
PARTNER TRACK – EARLY BIRD
---


Cena / Price: 750 Kč (36 EUR)

SOLO TRACK - EARLY BIRD
---


Cena / Price: 750 Kč (36 EUR)

Sold Out
INVITATIONAL TRACK - EARLY BIRD
---


Cena / Price: 750 Kč (36 EUR)

Sold Out
FRIDAY PARTY - EARLY BIRD
---


Cena / Price: 650 Kč (33 EUR)

Sold Out
SATURDAY PARTY - EARLY BIRD
---


Cena / Price: 650 Kč (33 EUR)

Sold Out
SUNDAY PARTY - EARLY BIRD
---


Cena / Price: 500 Kč (26 EUR)

Sold Out
PARTNER TRACK
---


Cena / Price: 850 Kč (42 EUR)
SOLO TRACK
---


Cena / Price: 850 Kč (42 EUR)
INVITATIONAL TRACK
---


Cena / Price: 850 Kč (42 EUR)
FRIDAY PARTY
---


Cena / Price: 800 Kč (40 EUR)
SATURDAY PARTY
---


Cena / Price: 800 CZK (40EUR)
SUNDAY PARTY
---


Cena / Price: 600 CZK (30EUR)
Theme class: Míša + Štěpán
---


Cena / Price: 450 Kč (25 EUR)
level: INT-ADV
Theme class: Vassiliki
---


Cena / Price: 450 Kč (25 EUR)
level: open
Theme class: Tamara
---


Cena / Price: 450 Kč (25 EUR)
level: open
Theme class: Viktor
---


Cena / Price: 450 Kč (25 EUR)
level: ADV
Theme class: Tess
---


Cena / Price: 450 Kč (25 EUR)
level: open
Theme class: Pavli + Janča
---


Cena / Price: 450 Kč (25 EUR)
level: open