THE SLOW DOWN! 14.-16.6.2019
For the first time in Brno, we bring you a weekend full of slow swing and blues! 3 nights full of slow swing and blues music, 4 bands, take-a-break picnic in park and bbq party, talks about the history of blues, couple and solo classes with international teachers. Saturday party in a WWII bomb shelter!
WHAT IS IT ALL ABOUT?
Enjoy with us the first edition of dance weekend focused on couple and solo dancing on slower swing music and swinging blues as it was played by legendary Duke Ellington, Count Basie, Lester Young, Billie Holiday and many others. We will experience various blues styles inspired by American ballrooms and juke joints – delta blues, Chicago blues, boogie-woogie blues, shuffles….Perhaps we will touch the Latino and funky blues styles.
Playlists of our bands, as well as DJ´s, are inspired by older music mainly, therefore don´t expect fusion.
CLASSES & LEVELS
All classes will be in English

Lessons are divided into 2 groups according to level of dance experience. Participants will be divided into groups based on the dance experience, blues and swing dancing particularly.

Both groups get 3 couple and 2 solo classes and 1 taster.
Our teachers are Sep Vermeersch & Els Houttequiet from Gent (Belgium).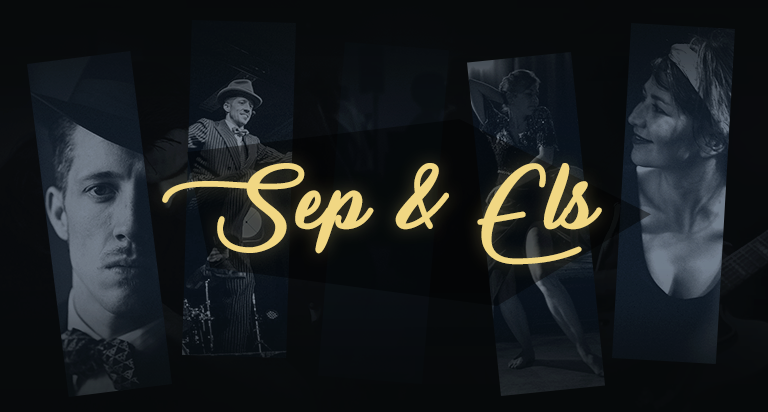 PARTIES
Friday:
Cosy rent party in Swing Wings studio with our wonderful Brno-based musicians playing together in slow swing & swinging blues jam
Saturday:
Picnic in the park under the Spilberk castle! Party in bomb shelter 10-Z (starting at 10 pm). The bomb shelter was built during WWII by Nazis as protection from Allies bombing of Brno. Now it is reconstructed and open to the public as a museum and cultural space.
At the grand opening for the public was present Czech-Israeli pilot Hugo Marom (one of Winton's children). And he said: "May this place never serve its original purpose. And may it remain vibrant with the sound of good jazz". We follow his wish and organize legendary parties and concerts in the bomb shelter, celebrating love to jazz, to blues, to the community, and we dance as if the new day should never come…
Party will start with Israeli diva Mikey May and Czech hammond legend Jan Kořinek´s band Miss Mikey May and the Organ Grinders. They will be followed up by late-night band Prime Minister Benny & his Clumsy Fingers. And the bomb shelter will turn into a real juke joint!
Sunday:
The program is in progress, more information will be available soon.
REGISTRATION
Registration will be opened on Sunday 10.2.2019 v 19:00.
Full Pass
2500 Kč
Cena / Price: 2500 Kč (100 EUR)

3x 60 min couple
2x 60 min solo
3x party
1x taster
Party Pass
800 Kč
Cena / Price: 800 Kč (35 EUR)

3x party
4 bands
1x taster
Contact: slowdown@swingwings.cz
PRICES
PICK YOUR PASS! 

| Pass | The price includes | Price per person |
| --- | --- | --- |
| FULL PASS | 3x60 minutes couple lesson, 2x60 minutes solo lesson, 3x party, 4 bands, 1x taster | 2500 CZK (100 EUR)  |
| PARTY PASS | 3x party, 4 bands, 1x taster | 800 CZK (35 EUR) |
PS: It's easier to get in if you register with a partner. Don't hesitate to use
facebook event
to ask around and find a person to register with!
VIDEOS OF THE SLOW DOWN ARTISTS TO INSPIRE YOUR DAY!
SEP VERMEERSCH
Sep's solo improvisation at Mallorca Lindy Festival to a blues tune Blue Drag performed by The Hot Sugar Band!.
ELS HOUTTEQUIET
Els and her blues performance. It's atmosphere will take you right to the Cotton Club in New York!
MISS MIKEY MAY AND THE ORGAN GRINDERS
Mikey and The Organ Grinders know how to make you groove, shuffle, swing and go reaaally slow with that blues vibe! 
PRIME MINISTER BENNY & HIS CLUMSY FINGERS
New Brno's band led by young blues guitar player Vit Benes. This video is from one of our socials. It was only the second time the band performed for the public! 
Jak vypadá bluesový večer? Podívejte se sami. 🙂 Prime Minister Benny & his Clumsy Fingers

Uverejnil používateľ Klára Kvardová Sobota 12. januára 2019