THE SLOW DOWN! 14.-16.6.2019
This year for the first time a weekend of slow dancing and blues in Brno!
3 nights of slow swing and blues music
4 bands
2 gastro events (a picnic under the castle and BBQ party in Otevrena zahrada)
2 talks about blues
couples and solo lessons with international teachers
crazy Saturday party in the famous Brno bunker!
WHAT IS IT ALL ABOUT?
Enjoy with us the first edition of dance weekend focused on couple and solo dancing on slower swing music and swinging blues as it was played by legendary Duke Ellington, Count Basie, Lester Young, Billie Holiday and many others. We will experience various blues styles inspired by American ballrooms and juke joints – delta blues, Chicago blues, boogie-woogie blues, shuffles….Perhaps we will touch the Latino and funky blues styles.
Playlists of our bands, as well as DJs, are inspired by older music mainly, therefore don´t expect fusion.
CLASSES & LEVELS
All classes will be in English
Lessons will be conducted in two groups. Dancers will be divided according to their dancing experience in especially blues and swing dances. Other dancing experience is welcome as well.

On Fridays, re-auditions will take place for those interested in being placed in the other group.
Every group will have two couples and two solo lessons within the full pass, as well as the taster and all the parties. Have a look at the detailed schedule.
Our teachers are Sep Vermeersch & Els Houttequiet from Gent (Belgium).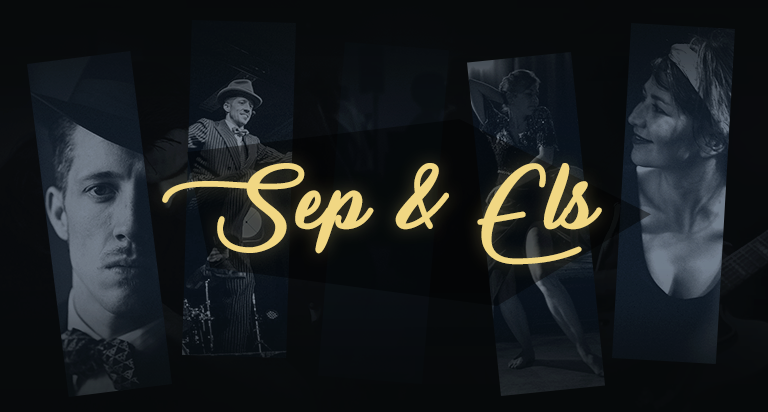 PARTIES
Friday rent party
Cosy rent party in the Swing Wings studio with our favourite house band Heart of Blues that will commence an original slow swing and heartrending swinging blues jam.
Saturday slow-down in the air-raid bunker
Starting 21:30 in the Brno 10-Z bunker.
The bunker was created as the air-raid shelter during the Nazi era as means of protection from American and Soviet bombing of Brno. During the communist era it was rebuilt into anti nuclear shelter and now serves as a museum and a cultural space for public.
During the celebratory opening for the public, the Czech-Izraeli veteran Hugo Marom (one of Winton's children) proclaimed: "May this place never again serve for what it used to in the past. And may great jazz be played here." We follow this statement and organise legendary parties and concerts here where we celebrate the love of jazz, blues, community and where we dance as if tomorrow will never come.
The evening will begin with the band of Izraeli diva Mikey May and Czech hammond legend Jan Korinek Miss Mikey May and the Organ Grinders who will pull us into the wild mixture of period jazz, blues and gospel. Late night band Prime Minister Benny and His Clumsy Fingers will follow and change the bunker into a real juke joint! Our teacher Kepo will prepare a blues taster. Also we have a few more aces up our sleeve!

Sunday finish
The weekend will be concluded with the last speakeasy party to which we will go together. Please come to Otevrena zahrada at 21:30 the latest, as individual and later entrance will not be possible!
Party will be led by Brno Hoochie Coochie Band.
ACCOMPANYING PROGRAM
Thursday:
Before the blues weekend begins you can listen to the talk of a Russian teacher Yana within our regular Stories of Music in Brno Music Lab on the topic of 'The Places of Blues'. The entrance is paid separately.
We will continue with live music as well.
Friday:
Sep Vermeersch, a Belgian dancer, teacher, DJ, and blues lover, has prepared a talk 'What is Blues?' that will start at 20:00.
A party with a band supported by DJs will follow in the studio and there will be a midnight surprise as well!
Saturday:
On Saturday after the lessons we will regain energy at a picnic in the park under the Brno castle Špilberk. Bring blankets and do not forget picnic baskets with something to drink and eat!
At a party in the famous air raid bunker, there will be two bands playing for you and Kepo will prepare a taster.
Sunday:
Sunday relax will begin at Otevrena zahrada, where we will have a true BBQ party. It will be possible to buy delicacies directly from the grill and we will have a bar at our disposal. Together we will move towards the final speakeasy party.
Thursday
19:30 – talk s Yanou
20:30 – social dance with live music
Friday
19:30 – re-auditions
20:00 – talk with Sep
21:00 – party in the studio
21:30 – live music
Saturday
11:30 – 12:30 lesson L2
12:45 – 13:45 lesson L2
13:45 – 15:15 lunch (small room)
15:15 – 16:15 L1 + L2 solo
16:30 – 17:30 lesson L1
18:00 – picnic under the castle
21:30 – party in the bunker
22:00 – live music
Sunday
12:30 – 13:30 lesson L1
13:45 – 14:45 lesson L1
14:45 – 15:15 snacks
15:15 – 16:15 L2 + L1 solo
16:30 – 17:30 lesson L2
18:30 BBQ party in Otevrena zahrada
21:30 relocation from Otevrena zahrada to the final speakeasy party
VIDEOS OF THE SLOW DOWN ARTISTS TO INSPIRE YOUR DAY!
SEP VERMEERSCH
Sep's solo improvisation at Mallorca Lindy Festival to a blues tune Blue Drag performed by The Hot Sugar Band!
ELS HOUTTEQUIET
Els and her blues performance. Its atmosphere will take you right to the Cotton Club in New York!
MISS MIKEY MAY AND THE ORGAN GRINDERS
Mikey and The Organ Grinders know how to make you groove, shuffle, swing and go reaaally slow with that blues vibe! 
PRIME MINISTER BENNY & HIS CLUMSY FINGERS
New Brno's band led by young blues guitar player Vit Benes. This video is from one of our socials. It was only the second time the band performed for the public!
HOOCHIE COOCHIE BAND
Hoochie Coochie Band is a Brno blues band founded in 1995. Their repertoire consists mostly of Chicago Blues, both adopted and their own compositions. 
REGISTRATION
Registration will be opened on Sunday 10.2.2019 v 19:00.
Contact: slowdown@swingwings.cz
PRICES
PICK YOUR PASS! 

| Pass | The price includes | Price per person |
| --- | --- | --- |
| FULL PASS | 3×60 minutes couple lesson, 2×60 minutes solo lesson, 3x party, 4 bands, 1x taster | 2500 CZK (100 EUR)  |
| PARTY PASS | 3x party, 4 bands, 1x taster | 800 CZK (35 EUR) |
PS: It's easier to get in if you register with a partner. Don't hesitate to use
facebook event
to ask around and find a person to register with!